Digital Scanning & Microfilm Equipment – DS & ME is pleased & VERY EXCITED to be able to announce the receipt of a purchase order for the installation of an Double A0 Flatbed Scanner the VERSASCAN model 4870 from SMA Electronic Document GmbH of Germany for Gallery 360 online @ https://www.gallery360.com.au/ located in West Leederville, Western Australia.
The 2A0 Flatbed Scanner the VERSASCAN model 4870
Bigger. Better. Faster.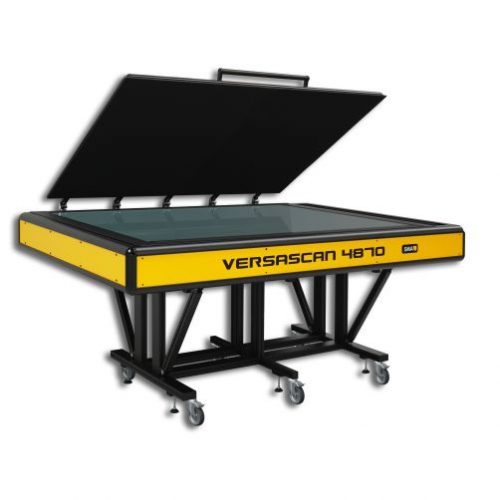 The VERSASCAN 4870 is the other 2A0 flatbed scanner in the SMA family of large format flatbed scanners. The scanning range is different from the VERSASCAN 36100 but also double A0. The VERSASCAN 4870 was designed to digitize wider originals. Renowned users around the world utilize the VERSASCAN 4870 to fulfill their special needs. VERSASCAN is a household name in archives, libraries and the private industry around the world. It features very high optical resolution and high productivity at the same time. The VERSASCAN 4870 double A0 flatbed scanner comes with V3D – a new scanning technology which allows users to scan many different types of originals. It offers the capability of digitizing structured surfaces such as wood, rubber, plastic, fabrics, carpet and many more types of material. Finally, light reflecting items such as coins, seals and metal prints can be captured at the highest quality. The V3D technolgy presents new opportunities as it can be applied to materials outside the normal archive and library world. V3D stands for VISUAL 3D. It is a newly designed scanning technology that produces results that look like 3D. The process is based on different lighting scenarios where the same area is being captured with several different lighting angles on the fly. The software then combines the separate images into one image. As a result V3D images offer perfect reproductions of nearly any structured surface. In additon it increases the depth of field significantly. This approach is unique and raises the outstanding image quality of SMA scanners to another level. The V3D function can be disabled and regular 2D scanning can be performed.
Operating the VERSASCAN 4870 2A0 flatbed scanner is as easy as operating a photo copier. Open the lid, place the document, close the lid and hit the scan button – that's it! Alternatively the scanner can conveniently be operated via foot switch.
SMA is the only company in the world that offers a full line of large format flatbed scanners varying from A1+ to double A0+ as well as a line of manual and robotic book scanners. All flatbed scanners are suitable for scanning large and fragile originals that do not require a book cradle or cannot be handled by a feeder. Due to its newly designed roll-away mount it is easy to move the scanners around – regardless of their size. Simply unlock the flatbed scanner, fold it up and off you go. Alternatively a motorized height adjustment is available in order to accommodate different working positions.
Full details on the range of SMA Large Format Flatbed Scanners for application in Art Scanning Bureaus, Artwork, Fine Art, Artist, plus Art Galleries and Museums plus Public, University, Special Purpose & Reference & Archives & Libraries, Heritage, Records Management, Information Management, Preservation, Conservation, Public History, Local Studies, Local History & Family History, plus Genealogy & Engineering Drawing applications for fragile document scanning is available online as detailed below @
For any book, drawing, map or plan plus archival document or fragile material no matter the size – e.g. less than A 5 = 148 x 210 mm = ( 5.83 x 8.27 inches ) or up to Double A 0 Plus = 2,000 x 1,210 mm = ( 78.7 x 47.64 inches ) – which requires Scanning, Digitising = Digitizing & or Imaging for your Digitisation Projects, no matter how large or small then contact Laurie Varendorff via email @ Laurie Varendorff ARMA; or Phone: Australia @ 0417 094 147 – International @ +61 417 094 147 at Digital Scanning & Microfilm Equipment – DS & ME.
For any form of microfilm aperture card, jacket, microfiche, microfilm – 16 / 35 mm Roll, micrographic & microform requirements, no matter how small or complex, please contact us via the Contact Us @ DME facility at this website or email Laurie Varendorff of Digital Scanning & Microfilm Equipment – DS & ME – Email: Laurie Varendorff & we will do everything in our power to fulfil your requirements.
Laurie will be able to advise if DS & ME has the specialised equipment available for the Scanning, Digitising, & or Imaging for your project from a minimum size of A 6 = 148 mm in width by 105 mm in height up to a maximum size of DOUBLE A 0 Plus or 2,540 mm in width x 915 mm in height = ( 100 x 36 inches ) for Newspaper/s, Photograph/s, Map/s, Plan/s & Engineering, Architectural plus other types of Drawing/s and other original/s or Book/s required to meet a prospective client's individual requirements.