The SMA model SMA 51 Archive Writer, File Converter, Microfilm Plotter – Digital to Analog Converting System utilizing Standard 16 / 35 mm Microfilm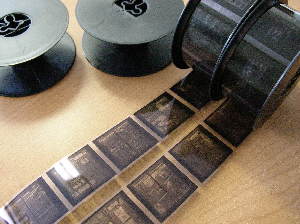 The above Image shows Spools of 35 mm Negative Microfilm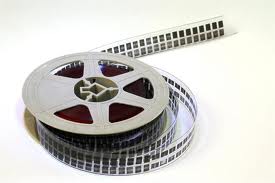 The above Image shows a Spool of 16 mm Negative Microfilm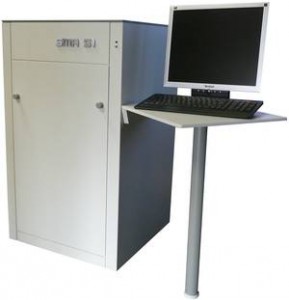 The above Image shows the SMA model SMA 51 Archive Writer, File Converter, Microfilm Plotter – Digital to Analog Converting System utilizing 16 / 35 mm Standard Microfilm 
A Brochure showing for SMA model SMA 51 Archive Writer, File Converter, Microfilm Plotter – Digital to Analog Converting System utilizing 16 / 35 mm Standard Microfilm is available for download @ SMA Archive Writer model SMA 51
Save your essential data which are subject to long-term archiving requirements with minimum effort and very cost effective on the proven media microfilm.
The SMA 51 Archive Writer produces an analog backup of your digital business documents.
There is no more need for migration of your electronic archive as microfilm is totally soft- and hardware independent.
Microfilm, produced properly and kept under right conditions, has a life expectancy – LE of up to 500 years.
In addition it is fake proof against viruses or worms and cannot be manipulated by hackers.
The SMA 51 Archive Writer can handle all kinds of image files such as TIFF, JPEG, PDF, DOC, XLS, etc. in bi-tonal, grey scale or color.
The converting process, which is done by utilizing standard 16 or 35 mm microfilm, is quick, reliable and provides excellent image quality.
The original document size can vary from as small as a postcard up to large maps and drawings. After the files are transferred to the system it will work unattended.
The system includes operating software which manages the downloaded files. Communication with the PC takes place via standard interface.
For converting image files back to 105 mm Microfiche please request information on the SMA model 105 = 105 mm Microfiche Archive Writer
This product has an online processor which allows you to develop the film right after exposure.
Digital Scanning & Microfilm Equipment – DS & ME are the Australian – New Zealand & Oceania Distributors of the SMA Electronic Document GmbH of Germany range of Digital to Analog Archive Writer Converting System for the Archival retention of Data over Hundreds of years.
2020-AUGUST:
Across Australia – New Zealand – Papua New Guinea & Oceania – DS & ME now have in excess of FIVE HUNDRED – 500 INSTALLATIONS of On-Demand Walk-up Digital Microfilm Reader, Viewer, Scanner & Printers with the ability to Read, View, Scan, and Print from 16 / 35 mm Roll Microfilm, Microfiche, 35 mm Aperture Cards for Engineering, Architectural plus any other type of Drawing/s, Map/s & Plan/s – either negative or positive, plus Micro Opaque/s – e.g. Microcard/s or Microprint/s.
For any form of microfilm aperture card, jacket, microfiche, microfilm – 16 / 35 mm Roll, micrographic & microform requirements, no matter how small or complex, please contact us via the Contact Us facility at this website or email Laurie Varendorff of Digital Scanning & Microfilm Equipment – DS & ME via Email @ Laurie Varendorff & we will do everything in our power to fulfil your requirements.
For any book, archival document or fragile material project which requires Scanning, Digitising = Digitizing, & or Imaging, no matter how small or large then contact Laurie Varendorff via email @ Laurie Varendorff ARMA; or Phone: Australia @ 0417 094 147 – International @ +61 417 094 147 at Digital Scanning & Microfilm Equipment – DS & ME.
Laurie will be able to advise if DS & ME has the specialised equipment available for the Scanning, Digitising, & or Imaging for your project from a minimum size of A 6 = 148 mm in width by 105 mm in height up to a maximum size of DOUBLE A 0 or 2,540 mm in width x 915 mm in height = ( 100 x 36 inches ) for fragile documents, maps, plans or drawings or books required to meet a prospective client's individual requirements.