The SMA Electronic Document GmbH Production Facility in Germany showing VERSASCANS in production
SMA Electronic Document GmbH

has been extremely busy again

in 2019 receiving  numerous 

SMA

model SMA VERSASCAN A1 to A0 in Size plus Double A0 Flatbed Scanners internationally as indicated above showing the made to order production line in play befor Santa arrives on 25th December.
The VERSASCAN 4870 the latest addition to the SMA Electronic Document GmbH of Germany  family of flatbed scanners.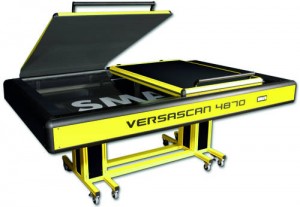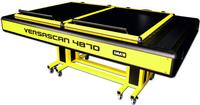 Digital Scanning & Microfilm Equipment – DS & ME have several of the SMA model VERSASCAN 4870 installed in Australia one with the New South Wales –NSW State Archives in Sydney & a second SMA model VERSASCAN 4870 installed with the Left Bank Gallery on the Gold Coast in Queensland.
With a scanning range of 1219 x 1778 mm it scans longer and wider than its successful sibling A0 plus VERSASCAN 3650.
This DOUBLE A0 scanner opens news doors as it can scan oversize originals in one go without the need of stitching serval scans together.
Further the new VERSASCAN model 4870 offers outstanding productivity.
A high resolution scan of 600 ppi over the entire scanning range can be performed in about 30 seconds only!
Of course the VERSASCAN model 4870 is equipped with SMA Electronic Document GmbH's new V3D = VIRTUAL 3D Image Technology.
For any book, drawing, map or plan plus archival document or fragile material no matter the size – e.g. less than A 5 = 148 x 210 mm = ( 5.83 x 8.27 inches ) or up to Double A 0 Plus = 2,000 x 1,210 mm = ( 78.7 x 47.64 inches ) – which requires Scanning, Digitising = Digitizing & or Imaging for your Digitisation Projects, no matter how large or small then contact Laurie Varendorff via email @ Laurie Varendorff ARMA; or Phone: Australia @ 0417 094 147 – International @ +61 417 094 147 at Digital Scanning & Microfilm Equipment – DS & ME.
Laurie will be able to advise if DS & ME has the specialised equipment available for the Scanning, Digitising, & or Imaging for your project from a minimum size of A 6 = 148 mm in width by 105 mm in height up to a maximum size of DOUBLE A 0 Plus or 2,540 mm in width x 915 mm in height = ( 100 x 36 inches ) for Newspaper/s, Photograph/s, Map/s, Plan/s & Engineering, Architectural plus other types of Drawing/s and other original/s or Book/s required to meet a prospective client's individual requirements.