Laurie Varendorff of Digital Scanning & Microfilm Equipment – DS & ME is a veteran of the Imaging Industry both Analogue & Digital.
Laurie's first introduction to the Imaging Industry was back in 1974 when he was appointed Manager of the Rank Xerox CopieCentre located in Perth Western Australia.
At that time Rank Xerox had one of [ if not the FIRST Plain Paper Reader Printers ] in the market Worldwide. The model 1824 had the ability of producing 18 x 24 inch Imperial = A2 420 x 594 mm Plain Paper Prints from 35mm Engineering Aperture Cards.
1974 was the fist time that Laurie had encountered the terms Resolution & Density as related to Micrographics.
Fast Forward to 2018
Now with the SMA Electronic Document GmbH range of Book & Flatbed Scanners the creation of Digital Images with Extremely High Resolution @ up to 1,200 x 600 PPI TRUE OPTICAL – Not Interpolated the value of Resolution Test Targets come to the fore.
You can view below a resized Low Resolution Image of an OVERSIZE A0 PLUS  = 1,189 X 841 MM PLUS MAP with FIVE-5 Test Targets superimposed scanned on an SMA A0 PLUS Scanner @ 600 X 600 PPI as shown below which was a  245MB file in size as the ORIGINAL 
We can email you a full size image on request via WeTransfer if requested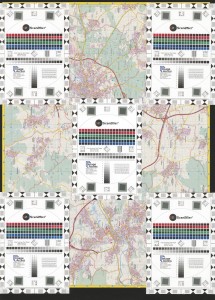 For clients who are unfamiliar with Resolution Test Targets specifically for Scanners these are a continuation of the earlier Quality Assurance Testing  of the imaging filming & developing process for Microfilm which was mainly introduced commercially in 1928 with use in the Banking Industry & then Microfilm Applications developed in leaps & bounds during the Second World War for documentation plus Engineering Drawings & then in the 1960 with Computer Output Microfilm – COM which is still used today in 2018 predominately for Archival Applications & in particular in North America followed by Russia & then Europe. Resolution Test Targets utilised targets with FIVE-5 sets of Vertical & Horizontal parallel lines with equivalent gaps calibrated from low @ 2.0 to high @ 9.0 as shown below.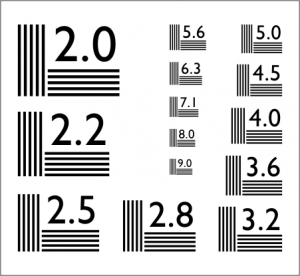 With the setting up of engineering drawing Microfilm Cameras the Australian Standard 1203-1972 advises in section 13: TECHNICAL QUALITY OF MIROFILM that in Item 13.1 The Minimum Image Resolution shall be that for the various size documents that the resolving power will be for:
A2 = 420 x 594 mm size drawings @ 7.1 times the reduction ratio @ 14.8 times = 105 Lines Per Millimetre – LPM
A1 = 594 x 841 mm size drawings @ 5.6 times the reduction ratio @ 21.2 times = 119 Lines Per Millimetre – LPM
A0 = 841 x 1,189 mm size drawings @ 4.5 times the reduction ratio @ 29.7 times = 134 Lines Per Millimetre – LPM
The operator testing the system utilised a 100x Magnification Microscope to view the Test Target & be able to view clearly the gaps separating the FIVE-5 Vertical & Horizontal lines so as to establish the actual resolution.
FAST FORWARD to today & we now no longer utilise a 100x Magnification Microscope to view the Test Target but view the resultant image on a PC Monitor which has a very poor resolution itself @ around 108.8 PPI for a 27 inch screen with a 2560 x 1440 resolution & TV's are even less effective.
NOTE: Pixels per inch – PPI or pixels per centimetre – PPCM
What does all this mean?
Well if we view the Original Image of the A0 PLUS Image as show above we can observe a Lines Per Millimetre – LPM image @ 9.0 LPM which is double the recommend image resolution for 35 mm Microfilm.
Is the Original Image of A0 PLUS Image as show above a clearer image that that as produced via a 35mm Microfilm Camera – YOU BET!!!
Is the Original Image of A0 PLUS Image as show above the BEST IMAGE capable of being produced by any commercial A0 scanners available from any Scanner Manufacturer World Wide – YOU BET!!!
And here is the reason why:
Why does the SMA SCANNER RANGE produce the BEST IMAGES of any SCANNER
For any book, drawing, map or plan plus archival document or fragile material no matter the size – e.g. less than A 5 = 148 x 210 mm = ( 5.83 x 8.27 inches ) or up to Double A 0 Plus = 2,000 x 1,210 mm = ( 78.7 x 47.64 inches ) – which requires Scanning, Digitising = Digitizing & or Imaging for your Digitisation Projects, no matter how large or small then contact Laurie Varendorff @ email @ Laurie Varendorff ARMA; or Phone: Australia @ 0417 094 147 – International @ +61 417 094 147 at Digital Scanning & Microfilm Equipment – DS & ME.
Laurie will be able to advise if DS & ME has the specialised equipment available for the Scanning, Digitising, & or Imaging from a minimum size of A 6 = 148 mm in width by 105 mm in height up to a maximum size of over Double A 0 = 1189 mm plus in width by 841 mm plus in height for books or Fragile Document/s, Map/s, Plan/s or Engineering, Architectural plus other types of Drawing/s required to meet a prospective client's individual requirements.
Digital Scanning & Microfilm Equipment – DS & ME for All Things Micrographic plus Book & fragile Archival Document Scanning, Digitising & Imaging services the Australian – New Zealand – Papua New Guinea & Oceania Market which includes all states & territories of Australia including Western Australia, South Australia, Victoria, Tasmania, New South Wales, the Australian Capital Territory, Queensland, the Northern Territory plus New Zealand – NZ  plus surrounding areas in Oceania where our Business Partners provide us with the authority to promote, install & to provide ongoing technical support for their nominated equipment range.